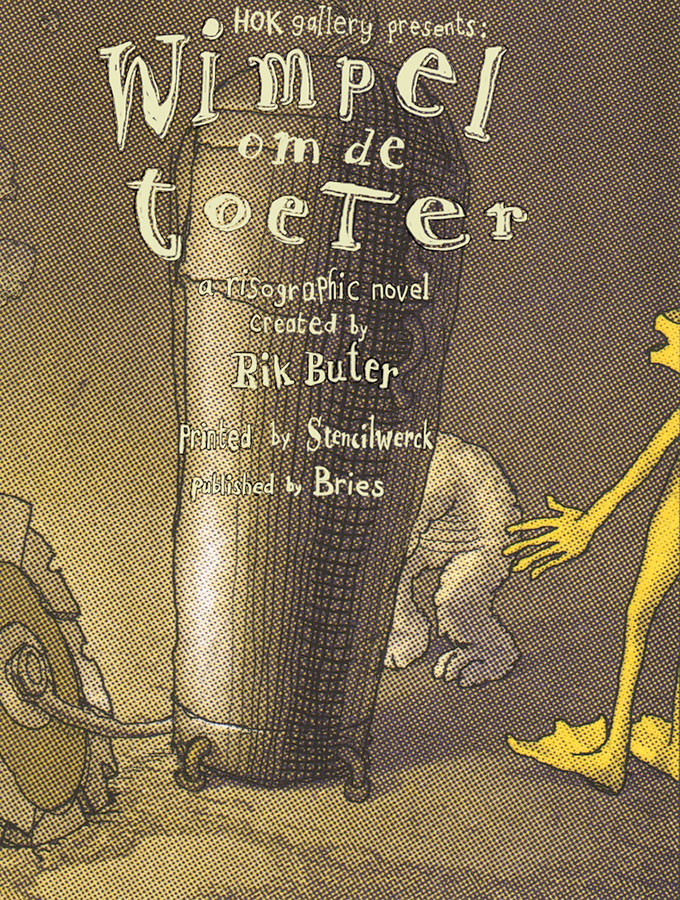 Rik Buter:
Wimpel om de toeter (Pennant around the horn)

Friday, October 30 – Saturday, November 21, 2020

_
He is yellow and a guest in HOK for three weeks before he is off to the moon again to have numerous adventures there: Albi, the hero in the comic book adventures made by Rik Buter. Awarded by Dutch quality newspaper NRC NEXT with the Benelux Visual Stories prize, and for good reason. Rick's drawings arise from a visual freedom in which lines without function find their way to the paper and images move freely and react to what is happening.

The exhibition celebrates the book release of Wimpel om de toeter (Pennant around the horn). In HOK one can admire and obtain prints, original paintings, and drawings of Albi's adventures.

Rik is a master etcher, draftsman, and painter. And so, a mix of disciplines brings Albi and his adventures to life, leaving HOK's visitors breathless. For the book Wimpel om de toeter (Pennant around the horn) Rik has opted for a Riso stencil print of digitally made drawings. During printing, Rik played with different screens that, in combination, produce surprising images. Sometimes small flower patterns appear to arise, other times one gets the impression of a strange noise looming. Yellow, purple, and black enter into an exciting play of colours, in which the special printing method helps to determine the final image. The story begins in a light, yellow tone and ends in a more purple and darker hue.

Rik himself was closely involved in the book's production process and kept a close watch on the running of the Riso duplicating machine in Stencilwerck's studio. Action was taken if something was not quite to Rick's liking, and adjustments were made on the spot.

The results are impressive. Riso seems to give the subconscious of Rick's work just that little push towards a place that is simultaneously accessible and inaccessible. And the adventure… will not be revealed here. You will really have to buy your own copy of Wimpel om de toeter (Pennant around the horn). 
_
Wimpel om de toeter (Pennant around the horn)
Edition: 100, Riso printing: Stencilwerck, Price: 10 euros or 20 euros for a special signed edition