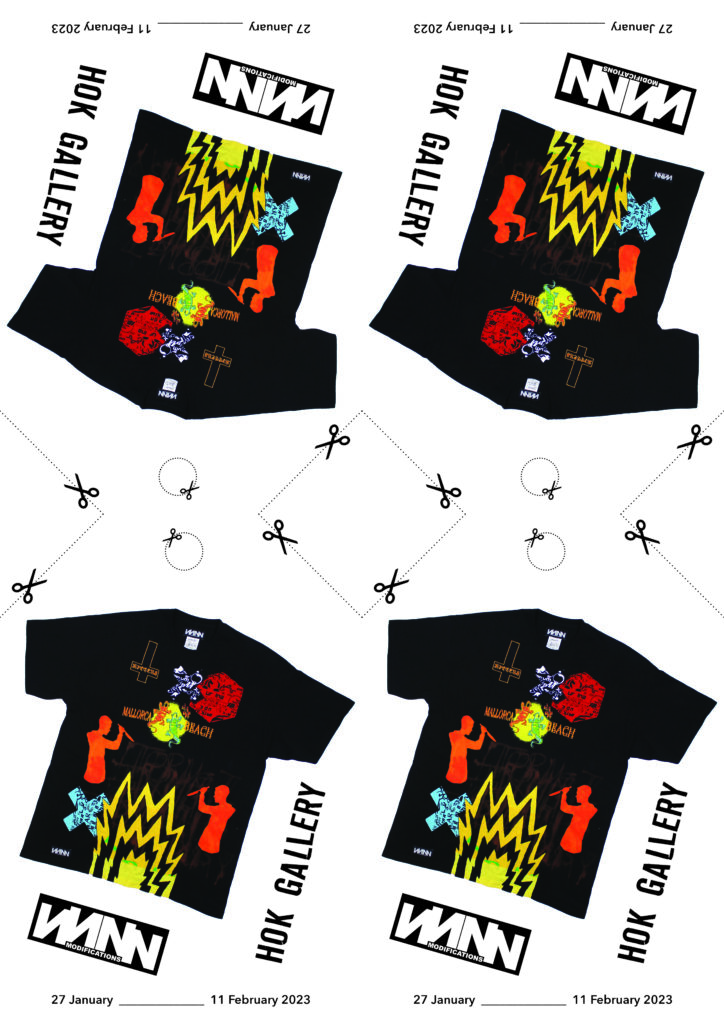 NNNN Modifications by John Fanning
From Friday 27th January on, it's cotton-picking time in HOK. Cloths and collage lovers alike will delight in in an expo of collages made from cotton fabric by The Hague artist John Fanning's NNNN Modifications clothing brand.
T-shirts are the thing here. The one t-shirt even more unique than the other. All of them maimed and handled from shirts previously owned by one or more persons somewhere in this world. Could be a shirt virtually unworn and good as new, brought home from a holiday or acquired as a freebie somewhere. Or a beloved shirt washed over and over that was eventually sold off for whatever reason. Secret histories sized to a t-shirt. Now dug up and up-cycled the shit out of them by NNNN into new, highly cherisable little works of art masquerading as simple t-shirts. Lots and lots of crisis-inducing work, blood, tears, sweat and love have gone into each shirt. No fashions, this-seasons or last-seasons. Each separate shirt just gets birthed and spit out. No specific girly shirts or muscle shirts or whatever. Nothing is ever NO: if it fits you, wear it no matter how you identify.
And to put the cherry on top: for this HOK expo only, there will be an exclusive limited edition of four artist riso prints, based on some of these NNNN t-shirt designs.

Vernissage: Friday 27 January, 7 pm.
Expo: Friday 27 January – Saturday 11 February
Opening times: Friday and Saturday from 1 till 5.