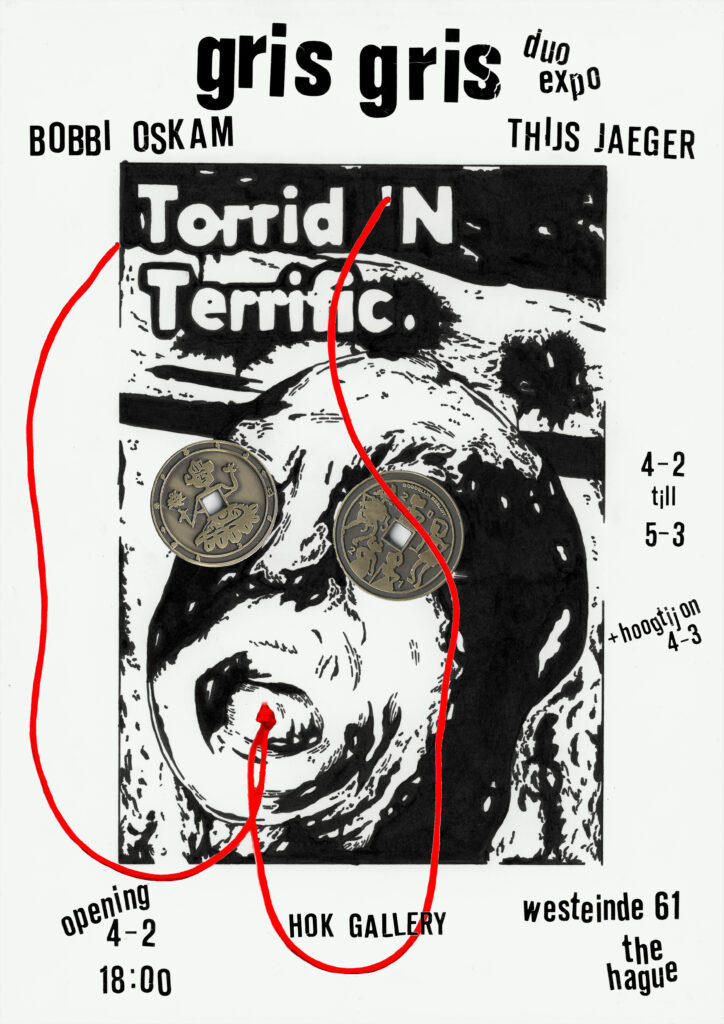 Thijs Jaeger and Bobbi Oskam: Gris-Gris
Thijs Jaeger and Bobbi Oskam are the first on a new series to have their Gris-Gris duo expo in HOK. Bobbi is a skater working in 2D, Thijs is a gamer working in 3D. The expo is named after the subject matter of Dr. John the Night Tripper's eerie 1968 album Gris-Gris and its almost eponymous opening song, in which the doctor is running up and down the bayou selling voodoo amulets to cure all your ills. Love trouble, a bad woman you can't control or neighbors giving you trouble: the voodoo amulet protects the wearer from evil and brings him luck. Some dragon blood, a little black cat heart if your woman got another man, the Devil's shoestring and a whole lotta sand.
Thijs Jaeger adds his own brand of Indonesian guna-guna to the doctor's gris-gris, building elaborate candle-lit altars and adorning the walls with self-fabricated coins to ward off evil spirits. His almost life-like objects and creations seem to be animated by unearthly spirits, like so many relics of a long-lost and forgotten religion.
Being a skater, Bobbi Oskam has no use for spirituality. His one hundred and thirty-four Edding pen drawings, as black as night and linocuts, confront us with an overwhelming parade of nightmarish non-fellow creatures. The very monsters making up his and our world, now in full confrontational view at HOK.
Gris-gris, guna-guna, and skate-punk. Thijs Jaeger's spirit world blending in with Bobbi Oskam's nightmares. Now in HOK. Come in and get possessed.