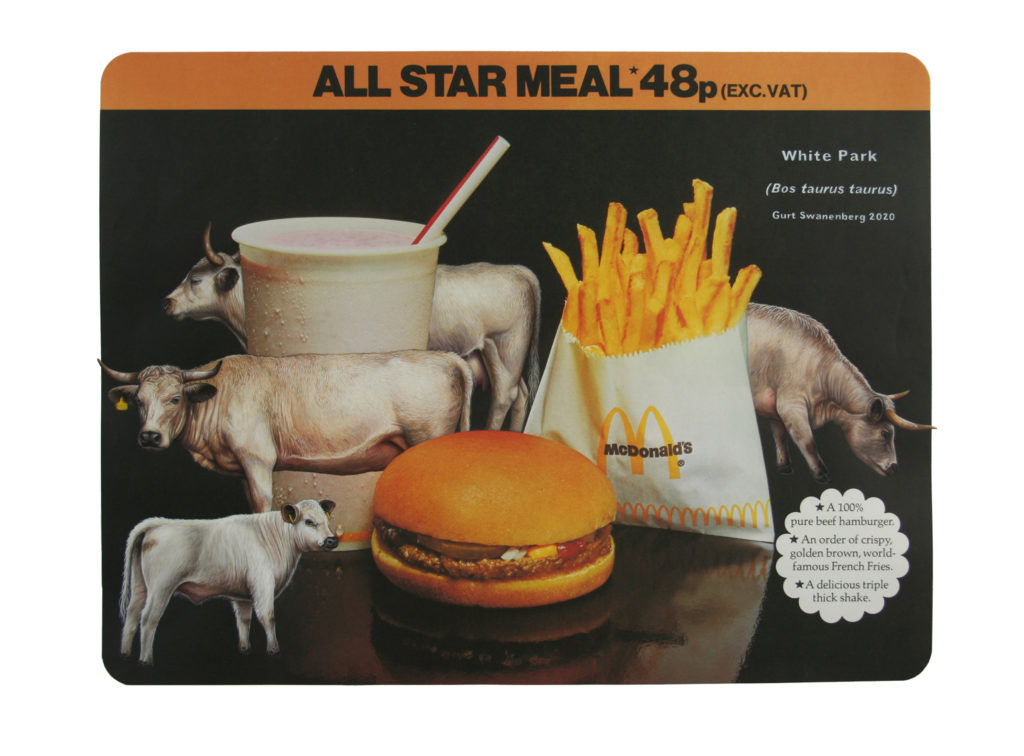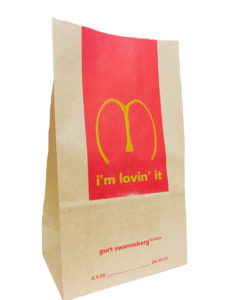 Gurt Swanenberg – I'm Lovin' It
Friday the 4th of September till Saturday the 24th of October.
Vernissage Friday the 4th of September at 18h00, with food consumption.
 
What is happening in HOK this Indian summer? Is it really so that Dutch 17th Century masterpieces will be moved in from the Mauritshuis, which is only a 5 minutes' walk away? The tissues, the colors, the material; even the bull will be there. The works on paper, on the other hand, may be a vintage MacDonald's bag or placemat from any time and any place. It takes a lot of patience to apply layer upon layer of acrylic paint on those bags, but there it is: the local brand of cattle supplying beef for the hamburgers, hyper-realistically executed. It's a man-made biodiversity. McDonald's to Gurt is a symbol of the consumption culture. Man creates animals to his own needs: the most milk, the best meat. A devastating agricultural overkill, the take-over of traditional tillage for the sake of cattle, meat and hamburger production, economical mass migration. The human race as a plague of locusts, appropriating commodities, using these up, and then clear off. HOK's window will be finger-licking good, with a gruesome piece of art that will give fast food for discussion and wondering, and which will bring you to the edge of ethical boundaries. 

This exhibition is part of HOOGTIJ on Friday the 25th of September.