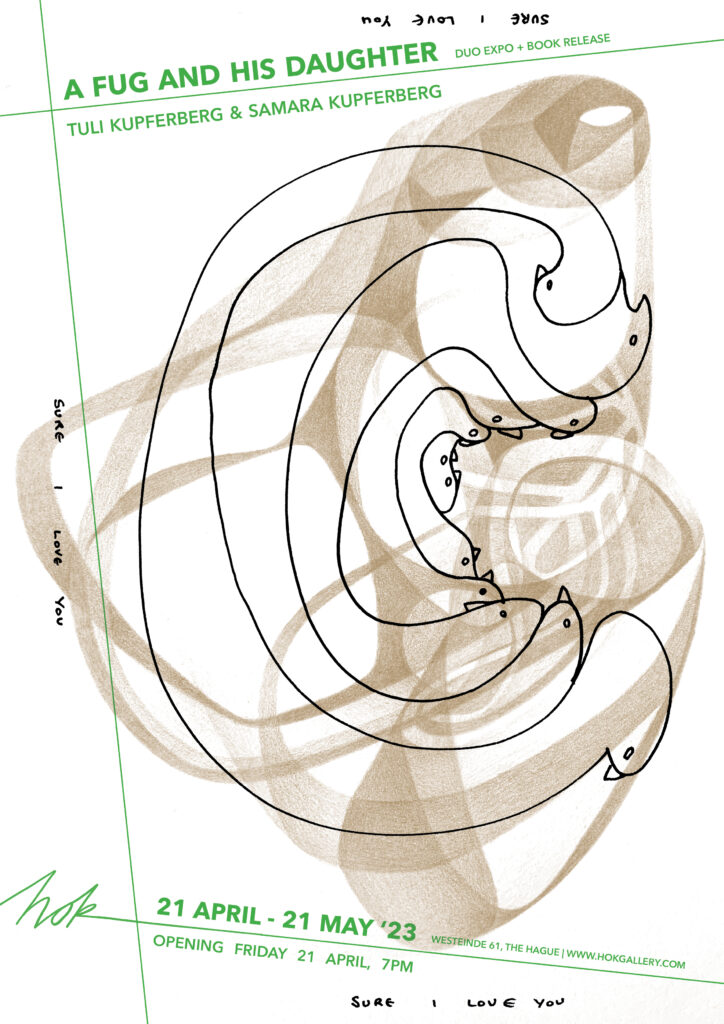 Duo-expo A Fug and His Daughter
A Fug in HOK! Friday the 21st of April is the day of the vernissage of the duo-expo A Fug and His Daughter, in the presence of artist Samara Kupferberg, and HOK will stay fugged until Sunday the 21st of May.
There will be drawings by Tuli Kupferberg, who is the Fug, and by Samara Kupferberg, who is the Fug's daughter. Thus the most brutalist of drawings (Tuli's) will be juxtaposed to the most exquisitely refined (Samara's). Tuli's unique and great sense of humor (quote Allen Ginsberg) juxtaposed to Samara's equally idiosyncratic sense of visual poetry. The expo will be complemented with ephemera from Tuli's Fugs archive.
As a poet, author, song writer, cartoonist, publisher, artist, actor, and radical pacifist activist, Tuli Kupferberg (1923-2010) is a towering presence in America's counterculture. He was also co-founder of the Fugs. The musical connoisseurs have reverentially labeled the Fugs "avant-rock noise music". According to the FBI, however, the Fugs were the "most vulgar thing the human mind could possibly conceive". The songs from the Fugs' 1965 first album are described by the Bureau as "vulgar and repulsive and most suggestive". Among these are the Tuli-penned 'Supergirl', 'Carpe Diem', 'Defeated', 'The Ten Commandments', 'CIA Man', and last but not least HOK's personal anthem, 'Nothing'. Extending his political activism and often absurdist radicalism to pencil and paper, Tuli began drawing in the early 1950s, frequently adding captions of witty, altered aphorisms. He has continued to do so for the next six decades. And luckily, to be sure, his drawings are as vulgar and repulsive and most suggestive as his songwriting.
The drawings by Samara Kupferberg (1974) are in their own special way no less political than those by her father. Drawing from Automatism and Biomorphic Surrealism, her drawings evoke undetermined living forms that she propels into a timely imagery of cosmic abstraction. The process is one of a mindful and patient exploration of what is being revealed through the act of drawing itself. Samara discovers and shapes mineral micro territories, developing unforeseen extra-dimensional portals to spaces for the mind to wander and inhabit. Her art reminds us of how political any relationship with the unknown is, especially when occurring in the intimate sphere.
Here's Samara interviewing Tuli.
Vernissage: Friday 21 April, 7 pm.
Book release Tuli Kupferberg
The vernissage on Friday 21 April will also stage the book release party of an exclusive folio with hitherto unpublished reproductions of drawings by Tuli Kupferberg, self-published by Samara in collaboration with London based Ragged Lion Press. This exclusive, limited edition folder of drawings, is appropriately risographed by Stencilwerck.
HOK Matinee Shows
Also, new in HOK: during the course of Tuli and Samara Kupferberg's duo expo, there will be a string of accompanying Sunday afternoon HOK Matinee Shows. Yes, this is something wholly fresh and exciting and never shown before in HOK. So join us for these upcoming Sunday afternoon HOK Matinee Shows! We open the doors at 1.30 pm and start at 2pm sharp, so don't be late!
The program:
Sunday 23 April, 2 pm: Interview and Q&A with Samara Kupferberg, led by René van der Voort. Samara will tell all about her art, about drawing and about being the daughter of Tuli. Who is better suited to the task of making her feel comfortable than René van der Voort? Not only did he provide us all with the best of counter culture records during his several decades of record-selling at The Hague's finest record shop Any Records, but he is also the editor of the ever expanding series of Counter Culture Chronicles: books, records and spoken word cassettes chronicling the counter culture in all its facets.
Sunday 30 April, 2 pm: Book release of a brand new Andrea Behr Pamflett (originally André Behr Pamflett,) this time on pals, or rather bff's, by Gloria Cramer (formerly known as Florian Cramer), Johanna Nun (formerly known as Johanna Monk), Dalin Waldo and Lula Valletta. A worthy addition to a splendid and varied series of pamphlets published by Boekie Woekie in Amsterdam. As an assistant professor in 21st Century Visual Culture at the Willem de Kooning Academy, Rotterdam, Florian Cramer is specialized in Autonomous Practices, researching new ways and practices of defining and creating autonomy in the arts and other disciplines, as opposed to traditional, and now often problematic, Western paradigms of aesthetic and artistic autonomy. The Andrea Behr Pamflett seems to fit in quite well with these objectives.
Sunday 7 May, 2 pm: Book-release of So, You Wanna Go to New York? A 1989 Anti-Tourist Guide by Truus de Groot, hosted by Sago Press's Leonor Faber-Jonker. In presence of the author, who will also do a musical performance. Truus de Groot moved in 1981 to New York City from The Netherlands. As a fresh immigrant she endured the challenging environs of New York City, which was a hostile place in a state of utter decay, littered with crime. How to survive in such a place? By making art of course, conveying the true essence of the Grit that was NYC, finally resulting in an 'anti-tourist guide' written in the late 1980s.
Sunday 21 May, 2 pm : Book-release of Hell and Ginsberg – A Beat Homage to Punk by René van der Voort and Mr. Pelham. Taking their inspiration from a poem dedicated by Allen Ginsberg to Richard Hell: 'Punk Rock Your My Big Crybaby', René van der Voort and Mr. Pelham track the interconnections between the Beats and the Punks, and between Allen Ginsberg and Richard Hell in particular. "Allen Ginsberg used to live in my building, but no one really talks about him anymore. He was so big in the past." – Richard Hell quoted in Young Kim's novel, A Year on Earth with Mr. Hell.
HOK opening hours:
Fridays and Saturdays 1-5 pm
www.hokgallery.com