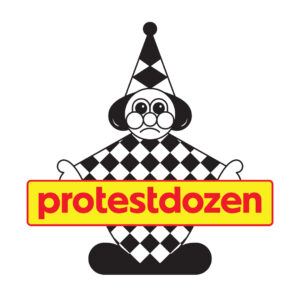 Gyz La Rivière: Protest Boxes
Building challenge and protest slogans in one package

25 August – 23 September '23

The housing shortage is too much. The housing shortage will kill us. No-one can live anywhere anymore, but everyone keeps silent in all tones. A popular uprising, it will not come. To the joy of few, to the sorrow of many. But HOK puts a stop to this spinelessness. Because HOK is where Gyz La Rivière now takes his stand. With protest boxes to vent his grievances about vacancy and undeveloped building sites. The housing shortage finally gets denounced. Feel a big lump in your throat because the commotion starts with La Rivière in HOK.

Inspired by the shame and the scandal, Rotterdam skatepunk artist Gyz La Rivière made a brand-new series of works for this expo in HOK, entitled Protest Boxes. These are processed packaging boxes of Lego, Monopoly, Meccano, Faller, Playmobil, Vollmer, etc. But also, of video games such as SimCity. The boxes all have the theme 'building and housing' in them. He edits the packaging of the new and unopened boxes with handwritten and handcut protest slogans that he has noticed and heard in recent years, among others during the Housing Revolt in Rotterdam on October 17, 2021. Sometimes the slogans even stem from a distant past. At HOK, Gyz La Rivière's protest boxes are on view alongside a selection of his collages, assemblages, and ready-mades.

And of course, we live in times of boxes anyway.


Live concert: Hollands Spoor
Sunday Matinee 3 September, 2 pm

Harold Schellinx (Paris) en Rinus van Alebeek (Berlin) form the electro-acoustic improvisation duo Hollands Spoor. Schellinx is an independant musician / composer / artist, writer and theoretical mathematician. He was a prominent figure in the Dutch post-punk movement Ultra in the early 1980's. Van Alebeek is a writer, musician, co-founder of Radio On in Berlin and the curator of Staaltape, the cassette label of Staalplaat. They have propagated their love of the music cassette for decades and Holland Spoor's main instrument, to no surprise, is the analogue dictaphone to create sound collages.
Zine release: This side up ↑

Gyz La Rivière's expo Protest Boxes in HOK will be accompanied by a budget-prized limited edition Riso-printed booklet containing an essay by Leonor Faber-Jonker titled ' This side up ↑ '.
The zine will be released during the opening of the 'Protestdozen' exhibition. Get yours! Limited edition of 50, printed by Stencilwerck.