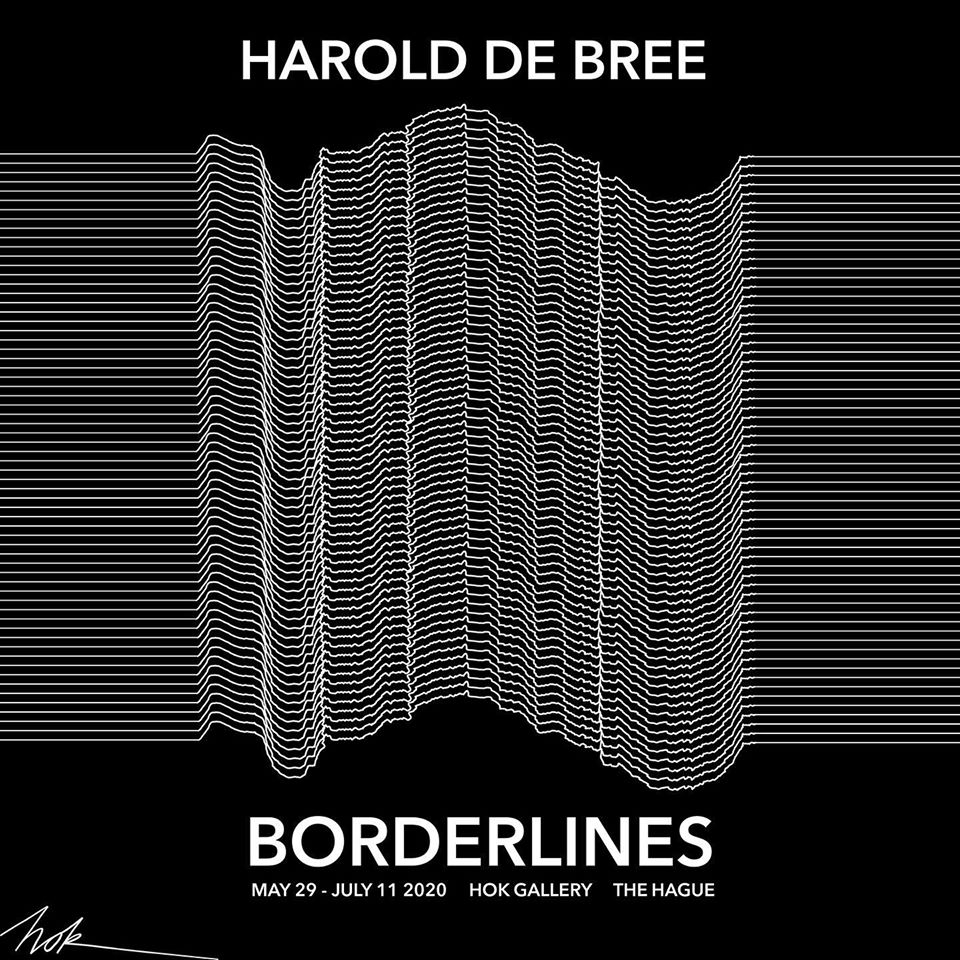 ---
For the first time without public; on Friday, May 29th, 2020 BORDERLINES the solo presentation of HOK artist HAROLD DE BREE opens with a virtual vernissage. 

Harold de Bree presents all new works, produced on-site by the artist on a journey along the border between South and North Korea. Art that is as groundbreaking as it is limitless, on the compass of military-historical coordinates. The opening of this expo coincides with HOOGTIJ #61, during which the Cultural Tour of The Hague along the participating galleries may for the first time take place without a living audience. HOK will present Borderlines in a short film featuring the artist and his work. This film, our virtual vernissage, will go online and be on view during HOOGTIJ, on their website.
More information: here
The exhibition is accompanied by a special HOK edition containing an original miniature work by Harold de Bree on copper. This booklet, which also features an interview with the artist and some poems, can be preordered via: info@hokgallery.com
As always the booklet is designed by Lula Valletta and stencil printed by Stencilwerck in a numbered edition of 50.
𝙋𝙇𝙀𝘼𝙎𝙀 𝙉𝙊𝙏𝙀 𝙊𝙐𝙍 𝘼𝘿𝙅𝙐𝙎𝙏𝙀𝘿 𝘾𝙊𝙍𝙊𝙉𝘼 𝙊𝙋𝙀𝙉𝙄𝙉𝙂 𝙃𝙊𝙐𝙍𝙎:
𝙀𝙑𝙀𝙍𝙔 𝙎𝘼𝙏𝙐𝙍𝘿𝘼𝙔 13-18𝙃 𝘼𝙉𝘿 𝘽𝙔 𝘼𝙋𝙋𝙊𝙄𝙉𝙏𝙈𝙀𝙉𝙏
𝙁𝙊𝙍 𝙏𝙀𝙉 𝙈𝙄𝙉𝙐𝙏𝙀𝙎 𝙔𝙊𝙐 𝘾𝘼𝙉 𝘽𝙀 𝘼𝙇𝙊𝙉𝙀* 𝙄𝙉 𝙃𝙊𝙆 𝙒𝙄𝙏𝙃 𝙃𝘼𝙍𝙊𝙇𝘿'𝙎 𝘽𝙊𝙍𝘿𝙀𝙍𝙇𝙄𝙉𝙀𝙎.
* 𝙥𝙧𝙚𝙨𝙚𝙧𝙫𝙞𝙣𝙜 𝙖 𝙨𝙤𝙘𝙞𝙖𝙡 𝙙𝙞𝙨𝙩𝙖𝙣𝙘𝙚 𝙤𝙛 1.5 𝙢𝙚𝙩𝙚𝙧𝙨.