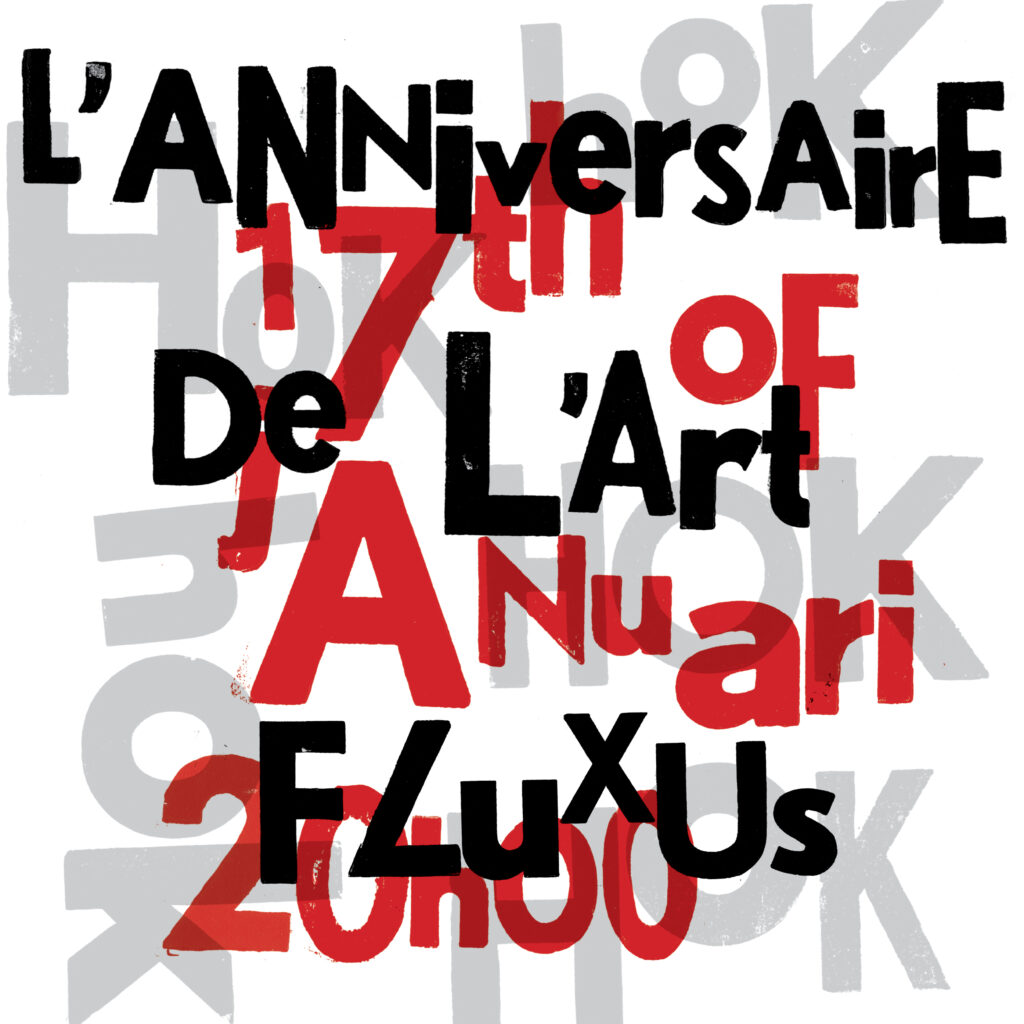 HOK HOK HURRAY
A HOK Gift Shop for Art's 1.000.060th birthday
RIDDLE ME THIS, YOU HOK FRIENDS
Just a few more nights' sleep and it's Art's birthday. And HOK will be celebrating. So put on a paper hat and join the fun. Just the Fluxus way. Because living to be 1,000,060 years old, that doesn't happen every day.
Not that it matters, but the birthday of art was first celebrated sixty years ago in Fluxus circles. L'a de l'A: l'anniversaire de l'Art. We have known Fluxus since the fifties. A kind of neo-dada anti-art full of nonsensical ideas, anarchist fun and plenty of provocative performances and events. Think of Bob Lens, think of Willem de Ridder. Get rid of tradable art objects at sky-high prices, offered by meaningless galleries.
Well not really. Then take HOK, the most unpretentious gallery in the Netherlands, where it is only about collaborative projects, no boundaries pur sang. Didn't Yoko Ono present her little bulbs ball of air to the MOMA gift shop, for the visitors to take home something unforgettable?
And what are we taking home from HOK this birthday? A genuine, unadulterated multiple by one of HOK's ever increasing bunch of free-spirited artists and friends. That is: a signed and numbered piece of art, made in a small edition, at a friendly price. A print, a piece of ceramic, a button, a doll, a piece of fabric? Whatever the artists set their minds to. As long as it's playful and none too serious.

To celebrate the 1,000,060th anniversary of art, HOK will transform into a FLUXUS gift shop for 60 minutes on Tuesday, January 17, at 8 o'clock in the evening. Here the birthday art can be viewed, purchased, and taken home with you. With prices ranging from 6 to 60 euros.
The 60-minute sound of the FLUXUS gift shop will be broadcast as noise on the "Art's Birthday" network and will be heard from Tokyo to Vancouver.
You are totally invited for those 60 minutes, to share a slice of cake, fold a paper hat and stuff your bags. Bob Lens' alarm clock concert has been silenced and with Willem de Ridder, Fluxus Northern Europe chapter has lost its chairman and mail order entrepreneur, but we are all still here to brew a party.
The multiples will remain on view and can be obtained in HOK even after the anniversary, the entire weekend of Friday 20, Saturday 21 and Sunday 22 January, in the afternoon from 1 to 5.