2 November – 5 January 2019: Tower Blocks and Other Symmetries by Jah Wobble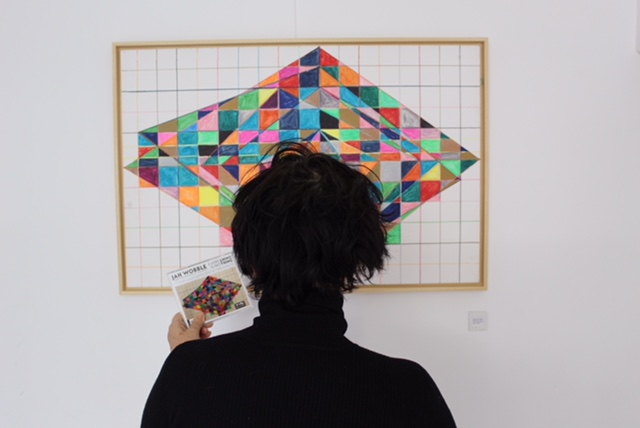 HOK Gallery has a world premiere with Tower Blocks and Other Symmetries. Never before has Jah Wobble exhibited so many of his mixed media paintings outside the UK.
The man who brought us into trance and dance with his hypnotic bass playing on PiL's first two LP's
(Public Image, Theme, Pop Tones) makes art as he makes music. Unorthodox geometric patterns spread into all corners of the canvas. It's one unimaginably exuberant kaleidoscope of repetitive color illusions.
And when it's not these asymmetrical symmetries that Jah Wobble puts onto the canvas, then it's the Tower Blocks; three ominous apartment blocks from Jah Wobble's childhood, which arose out of nowhere in the middle of a London working-class district.
Just like the sudden appearance of the black monolith elicited the dawn of humanity in Kubrick's 2001, these Tower Blocks eventually brought Jah Wobble onto the path of the visual arts.
As Jah Wobble himself puts it: "Everytime I pick up the bass it's like it's the first time and it's the same when I pick up a paint brush. Both things come from a deep place somewhere and I suppose that in a way it's childish and a bit OCD' ish, but I don't give a fuck. It's my therapy – my healing. I do my paintings very fast. You need the urgency. Wham! Get it on canvas."
The exhibition consists of a selection of artworks in different sizes, and in all colors of the rainbow.
In addition, HOK publishes a limited edition booklet, which has an autobiographical sketch written by
Jah Wobble and an interview.
SPECIAL EVENT:
FRIDAY 2 NOVEMBER 2018
The evening starts at 6 pm with the vernissage of the exhibition in HOK gallery in presence of Jah Wobble. After that, at 8 pm
the artist and the guests will get into a bus, which will be ready in front the gallery, hearing never ever heard before poetry reading and music of Jah Wobble while driving around. At the end of the bus ride, an artist's talk will be held at Any Record record store, Geest 32A in The Hague.
A cassette-only edition of this performance will be released in the series Counter Culture Chronicles.
---
The Works