Pulling the Strings: Gavin Jay
Vernissage: Friday, 13 December 7PM
Gavin Jay is an artist to be cherished by all those opposed to single-mindedness. In the visual arts, he seems to have found his niche by combining Max Ernst's revamping of obsolete imagery, found in old journals, with Joseph Cornell's assembling of odd collections in glass-fronted boxes. The result is a strange and colorful series of three-dimensionally framed assemblages of found imagery from Victorian books and journals. Setting Gavin Jay apart from his first-half 20th Century inspirators is a dark twist of Psychedelia and Pop Art. Not surprisingly, these latter elements seem to shade off into the dark and twisted world of rock'n'roll. That's right: when not assembling weird Victorian imagery into glass-fronted boxes, Gavin Jay is the bass player in Jim Jones and the Righteous Mind. And, being the artist that he is, Gavin, of course, provides visuals for this band: the cover of recent album 'CollectiV' was designed by him as well as various booklets, posters and t-shirts – thus combining music and visual arts. And no mean band this is, either. To name just one feat among so many others: in its former incarnation, the Jim Jones Revue, the band contributed the wildest and most devastating song to the late great Jeffrey Lee Pierce sessions project: Ain't My Problem Baby.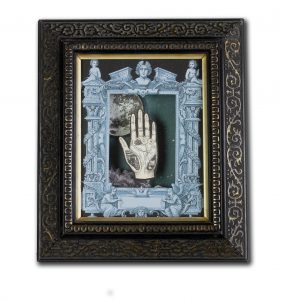 To discuss his expo in HOK, we have a meeting with Gavin in a London hotel. For this, he has to take the train all the way from his present place of residence, Brighton, though originally Newcastle is his hometown.
The conversation tends to hop from the visual arts to music and back again. He talks about the honour of performing live with artists from bands such as The Cramps, Sex Pistols, Buzzcocks, and Bad Seeds, as well as supporting the likes of Jack White and Lemmy Kilmister. Gavin also plays bass with Australian musician Suzie Stapleton and we discuss their involvement in the next instalment of the Jeffrey Lee Pierce sessions project.
The Righteous Mind are planning a return to Europe next year but there are concerns about what effect  Brexit will have on British bands touring abroad. Nothing too bad with staying at home, though. On his mobile phone, Gavin shows a little film of the red wall in his Brighton home, covered with assorted artworks of his own, touched up here and there by a little piece by one of his favorite other artists. An assemblage of assemblages, this is a  home like a gallerist's dream.