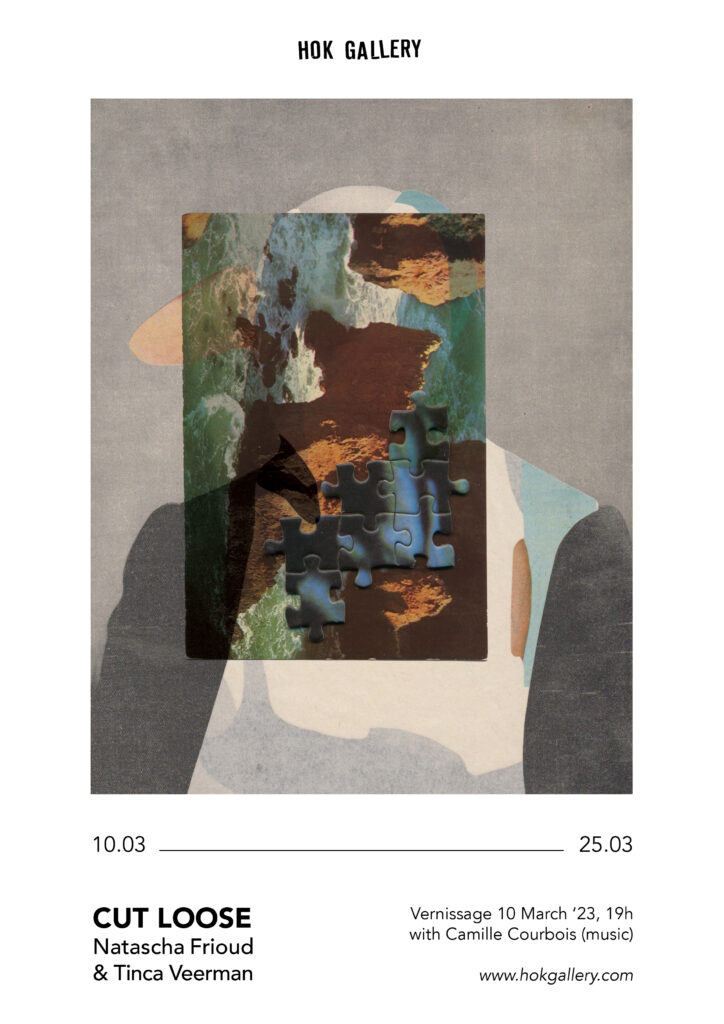 Cut Loose
HOK duo expo by collagists Natascha Frioud (CH) and Tinca Veerman (NL)
A series of airy, almost transparent portrait collages and a video of sleeves on the wind by Tinca Veerman, set against 1500 pieces of paradise landscape from Natascha Frioud's puzzle-collages on postcards. Plus: a zine release and a live performance on Hoogtij. Who could ask HOK for more?
Tinca Veerman's portrait series The leaves from the balcony room closet stems from a time-worn notebook she found at her parents' house, containing a student of civil engineering's notes from 1952. Inside the cover of this notebook was a small pile of almost transparent sheets of paper that had faded with age. Probably meant to record architectural sketches and ideas while drawing, Tinca instead took the sheets as the basis for a collage series of possible portraits from that time. Soft, menacing, masculine, feminine, layered and constructed. Making us wonder: what construction of thought underlies our contemporary thinking?
Lady Long Sleeve, dedicated to Tinca's mother, is a dreamy video presentation starring the artist herself to the musical accompaniment of Kramer, the renowned producer, composer and former Fug and Butthole Surfer. Her sleeves, far too long for her body, are lifted by the wind, as if they are wings that could carry her away at any minute. At the same time, they seem to confine her: the garment makes it impossible for her to use her hands. The power of the wind turns the figure into an object, cut loose from the concerns of daily life.
Paradise: the stuff that not only dreams are made off, but jigsaw puzzles and postcards as well. Natscha Frioud's Send Me Some Paradise puzzle-collages on postcards offer us 1500 pieces of a paradisiacal landscape to assemble. A non-glamorous and rather lonely pastime, the jigsaw puzzle is a game based on a single goal, which is to construct a picture, in only one possible way. If the picture pleases the eye, one may glue it to a piece of cardboard and hang it on the wall like a poster, perfectly still. In contrast, postcards are meant to travel. They serve as advertising for other places and reflect our own habit of travelling all over the world.
Send Me Some Paradise adds a new variable between these two incompatible ways of depicting leisure and vacations. The tropical beach, a cliche image won out of the jigsaw puzzle, gets cut loose and is by bits and pieces superimposed on the postcards, ever increasing in number. So, the surface of the puzzle increases, but the image, once disassembled, cannot be reassembled and finally disappears altogether. The postcards no longer travel, but their images distort each other, transform with the parts of the beach paradise and the palm trees. The paradise, lost, returns to the state of an idealized dream.
With Tinca Veerman and Natascha Frioud HOK brings together two entirely different approaches to 'cutting loose' in one duo expo. While Natascha is literally cutting jigsaw bits and pieces loose from a paradise returning to a state of dream, Tinca is cutting loose from the concerns of daily life in a more transcendental way, the transparency in the collages on wafer-thin paper from her father's house getting reflected in Lady Long Sleeve, dedicated to her mother.
So, come and cut loose at HOK in more ways than one.
Opening: Friday 10 March, 19:00 during HOOGTIJ,
with a live performance by Camille Courbois (furtips)
and zine-release of 'Eclips (nr.1)'; a collaborate zine by Tinca Veerman and Leonor Faber-Jonker.

Exhibition on view till: Saturday 25 March 2023.