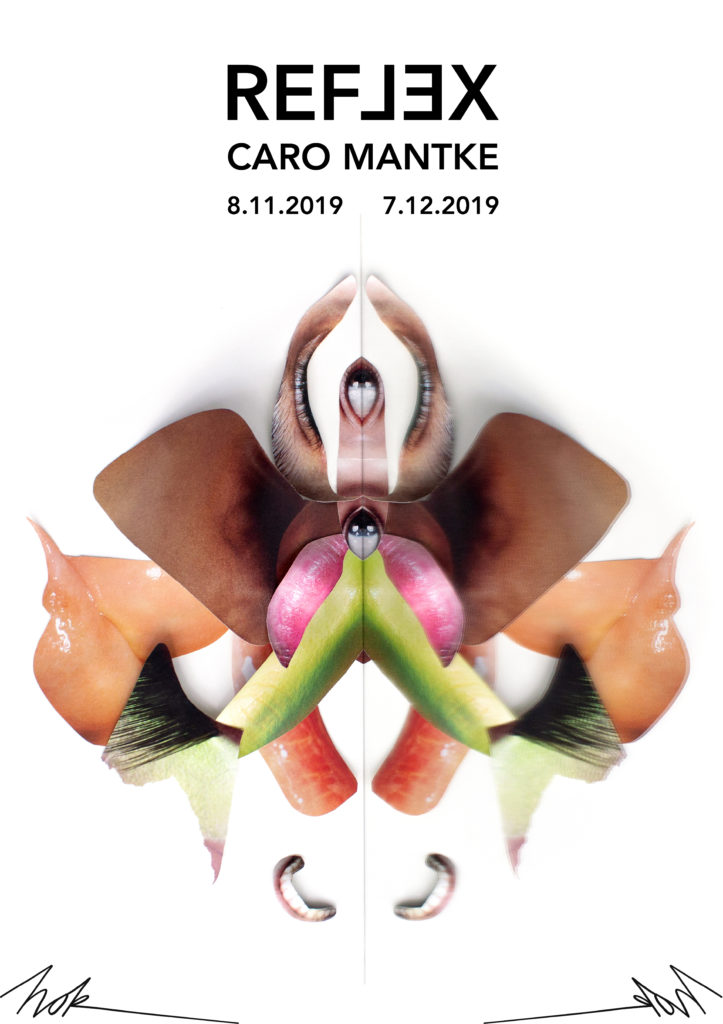 REFLEX, a solo exhibition by Caro Mantke (DE). 3D-collage material with body-parts mixed with parasites. 8-11 till 7-12 2019
Caro Mantke is born in Berlin, Germany, educated at the Bauhaus University Weimar and a collagist by heart. She is part of the wandering contemporary GlueHeads project founded by Anelor Robin †, where Berlin collagists come together in optimal creativity.
After several group expositions her solo exposition in Hamburg Bodybuildings gained lots of attention. Caro astonished the crowd with her three-dimensional bodies cut from magazines. It was that moment that her parasites came into the world, creeping out of the walls, feeding on their horst surroundings, a mix of sculpture and collage material.
For the HOK exposition REFLEX Caro Mantke will take her audience into the so-called Rorschachtests.\where her work will be partially shown as 3-D collages, photographed through a mirror and shown as fine prints hanging on the wall. For this exhibition HOK itself will be mirrored. Besides the sculptures and other works, a Kaleidoscopic video will be exclusively presented.
To Caro Mantke collaging is the art of creating something new from material that is already there. Like sampling, such that all life is sampling. Piece by piece making it become unique and personal.
Collage is still an underground art form in Berlin, no wonder that it feels at home in HOK. 
_
Along with the exhibition, HOK publishes a limited edition booklet that has an interview with Caro Mantke, reproductions of her work, as well as an original, unique and handmade 3D collage by Caro herself. Riso printed by Stencilwerck in an edition of 50. Price: €12,50