Friday 2 November 2018: Vernissage with artist Jah Wobble + bus tour to Artist Talk
The evening starts at 6 pm with the vernissage of the exhibition in presence of Jah Wobble at HOK gallery , Mauritskade 77, The Hague.
At 8 pm the artist and his guests will get into a bus which will be ready in front of the gallery. And a bus ride it will be! Jah Wobble will present his not jet released album bases on his poems driving around looking for the Tower Blocks of the Hague.
Arriving at the record store Any Records, Geest 32 A, there will be held a fabulous artist talk.
A cassette-only edition of this performance will be released in the series Counter Culture Chronicles.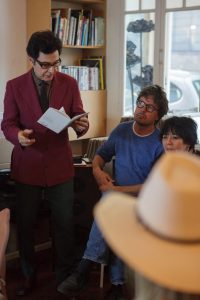 Saturday 15 September 2018: Artist's talk + lecture by Tav Falco
7-10PM at Any Record, Geest 32a in The Hague
The artist's talk and lecture by Tav Falco on Saturday 15 September will bring back
the ghosts of fifties and sixties San Francisco beat poetry readings. Any Record may
be The Hague's finest record store, but it will easily prove to be a much too small
place for Tav Falco delivering his manifesto lecture on photographing in the
American South. But: the crowdier the merrier. The artist's talk will probably touch
upon themes like the interconnection between photographing and playing avant
garde rockabilly, and the beat poets' relevance for the 21st century.
Tav Falco's lecture as well as the artist's talk will be recorded for release in the cassette-only
series of Beat Poetry issues, the Counter Culture Chronicles.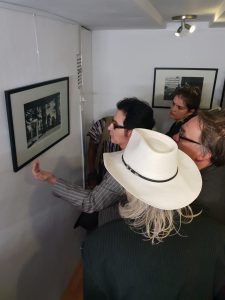 Friday 14 September 2018: Vernissage in precence of the artist: Tav Falco
7 – 10PM
Tav Falco will be here at the vernissage to maybe say hello or discuss the photo's on
exhibition and may sign his autograph on prints, booklets and posters. So don't be
shy and find out anything you want to know about your own favourite photograph.
This special event will be followed the very next day by another special event:
Artist's talk + lecture by Tav Falco: Saturday 15 September 19u00-22u00, Any
Record, Geest 32a in The Hague. www.anyrecord.nl
Friday 7 September 2018: Soft opening
7 – 10PM
50 PHOTO'S: An Iconography of Chance is a psycho-iconography of the gothic South of the United States. Captured in black & white photographs by self-confessed outsider-looking-in, Tav Falco of the avant-garde rockabilly band Panther Burns.
Here it is: the urban specters, rural fables and visual clichés that have made the American south a netherworld of dreams and a necropolis of terrors.
The soft opening of this exhibition on Friday 7 September is a special event, presenting the collector and connaisseur a first easy view at the 50 black & white silver gelatin prints 30 cm x 40 cm struck from the original negatives.
It is to be followed by two other, no less special events:
Vernissage in presence of the artist: Friday 14 September 19h00-22h00
HOK Gallery, Mauritskade 77 in The Hague.
Artist's talk + lecture by Tav Falco: Saturday 15 September 19h00-22h00
Any Record, Geest 32a in The Hague.
9 June 2018: Workshop collaging
Lula Valletta will be giving a workshop on collaging at HOK Gallery on Saturday 9 June, from 12 till 4 PM. Cost: €35 per person. Material included.
To sign up please send us an email: info@hokgallery.com
1 June 2018: Opening HOK gallery
Vernissage Lula Valletta's Purgatorio
6 till 8 PM at Mauritskade 77, The Hague, The Netherlands